Our Mission Statement
To make known the treasures of Catholicism within the context of a Western culture that is in the process of rejecting the Faith responsible for its greatness.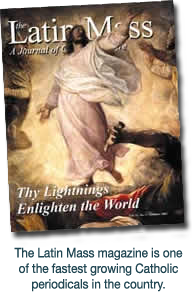 To offer an antidote to the universal phenomenon of an accelerating secularism that is hostile to the One True Church and the salvific charge given to it by our Lord.
To disseminate through a variety of disciplines the fullness of Catholic culture and fight against the corrupting influence of the compartmentalization of knowledge.
Some Key Means of Accomplishing the Mission:
Develop The Latin Mass journal into the intellectual arm of Catholics working for the return of the Church to tradition and authentic organic development.

Identify, develop and publish writers committed to Catholic liturgical, spiritual, theological and cultural traditions.

Organize educational conferences that will offer priests and faithful (often isolated because of their views and dispositions) a sense of hope and rekindle enthusiasm for grassroots propagation of the Faith.


For more information about Latin Mass Magazine Staff and Contributors,
click here

The Latin Mass is an apostolate of Keep the Faith, Inc.
Tax-deductible gifts may be made to:
The Latin Mass–Keep the Faith, Inc.
and sent to:
82 E. Allendale Road, Suite 8B, Saddle River, NJ 07458

---

---