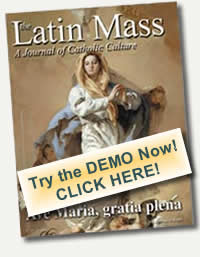 The online subscription format offers a superior interface that allows you to browse the entire content of the print version of The Latin Mass as an electronic magazine -- with a flip of the page and all!
You will be able to search content, turn pages, view as a true graphical format of the magazine, or in a text-only format. The choice is up to you!
Enjoy the convenience and ease of digital format! It's easily accessible from wherever you are: at home, at work, traveling -- anywhere that you have access to the Internet!
What's more, it's "Searchable"! You can use search functionality to locate keywords, and topics.